Thu.Dec 08, 2016
B2B Lead Generation Blog
Healthcare Marketing: Google's Guide to Patient Recruitment
B2B Marketing Insider
DECEMBER 8, 2016
The healthcare industry is vast, featuring a variety of B2B and B2C organizations for which the marketing goals are different. While B2B healthcare companies such as EHR providers ultimately aim to increase leads from hospitals and other healthcare facilities, B2C healthcare organizations instead aim for increased patient recruitment. According to a recent Google webinar, the […].
28 of the Best Chrome Extensions for SEO, Productivity & More
Hubspot
DECEMBER 8, 2016
For all of the greatness that the internet affords -- cute animal videos , GIFs , and interesting blogs -- I think its biggest downside is how distracting it can be. How many times have you sat down to work and been pulled into a pit of procrastination ? No matter where you click online, it's easy to be pulled into a black hole of distraction and low productivity. Social Media. 1) bitly. Blogging.
Emotional Marketing: How to Supercharge Your Results
Vidyard
DECEMBER 8, 2016
If you're a marketer who's done any dabbling in video, you likely already know all about how important emotion is in your video marketing. Throw in some awww-worthy puppies or use some slapstick Three Stooges humor and you've got it made. If you can get your viewers laughing or crying, you've probably hit the jackpot, right? Turns out, emotional marketing is a little more complicated. It's science.
30 Tips On Using Google Apps for SEO Nerds and Marketers
B2B Marketing Insider
DECEMBER 8, 2016
G Suite is a set of apps which includes Gmail, Docs, Drive and Calendar amongst others. However, you can use tools, plugins and the apps own features to enhance their functionality and raise levels of productivity within a business.  These tips are perfect for beginner SEO practitioners to even the most seasoned marketing professionals. Here […]. Search Marketing
The Rise of the Customer Marketer
Advertisement
Explore the changes taking place in customer marketing from the perspective of customer marketers themselves.
Customer
6 Steps to Save a Project That's Gone Off the Rails
Hubspot
DECEMBER 8, 2016
No matter how much careful planning goes into a project, disaster can still strike when you least expect it. And when it does, it's important for project managers to know how to minimize the damage and keep the team moving forward. Other times, the signs a project is headed for trouble are more difficult to spot. If your latest project seems like it's spinning out of control, we're here to help.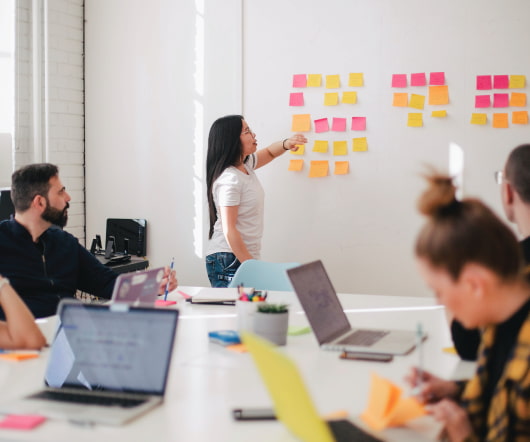 Rethink Podcast Episode #8 – Top Search Marketing Trends for 2017
Act-On
DECEMBER 8, 2016
In this episode of the Rethink Podcast, we interview Mike Arnesen, the CEO of Upbuild, a Portland-based digital agency. Mike is a recognized expert in technical search marketing, and we asked him to share his thoughts about search marketing for 2017. In the interview, we discuss AMP, responsive design, voice search, and link building. We also discuss how to determine when a project should be done in-house or hired out to an agency, how to find the right agency partner, and the one question you should ask each other. In this Episode (with URL links to sections): AMP (Accelerated Mobile Pages).
Advanced Reporting Is Awesome: Part 2 — Geographic Data
Vertical Response
DECEMBER 8, 2016
Here at VerticalResponse headquarters, we're pretty excited about all the insights Advanced Reporting offers users. To showcase the unique edge Advanced Reporting brings to your email marketing, we're examining each feature individually to highlight its advantages. Last week, we took a look at the use and benefits of device and browser statistics. Map view. All rights reserved.
Stop press! The secrets to successful content sign-off
Connecting Element
DECEMBER 8, 2016
Getting copy signed off has always been challenging. But with digital content rising up the agenda, it's time we asked: how do we prevent valuable work being killed by committee? The post Stop press! The secrets to successful content sign-off appeared first on Connecting Element. Blog brand content guide content guidelines content strategy content workshops copywriting managing stakeholders
B2B Marketing Trends for 2016
Advertisement
25 B2B marketing thought leaders answer the question "What do you expect to B2B marketers to be doing more of or differently in 2016?" The results are amazing insights around content marketing, achieving business results, alignment, employee advocacy, new technologies, customer experience and more.
Aggregage
Better Content in Half the Time: Applying Scrum Principles to Content Marketing
Kapost
DECEMBER 8, 2016
Let's begin with a question: if someone told you they were, "moderately successful" or "minimally successful" at something, would you recommend that they do more of that thing in the near future? Probably not. Even more troubling, when asked what contributed to their stagnancy or decline in success, these marketers cited a lack of time and content-creation challenges as their primary hurdles.
How Millennials in the Workplace Are Revolutionizing Marketing
Content Standard
DECEMBER 8, 2016
For young marketing professionals, a simple phrase might define their marketing approach: out with the old, in with the new. Today's new wave of marketers and business leaders aren't following in the footsteps of their older counterparts. Switching over to digital—now—is the younger crowd's imperative. Where older marketers tread lightly, Millennials dive right in.